The Rocks Village Memorial Association invites your artwork submissions to their upcoming Spring Open House event at the Hand Tub House in Rocks Village, Haverhill on Saturday, May 4th, 2019.
Although the criteria for art is related to the area of East Haverhill and Rocks Village, we encourage you to take a look at our website, visit the area, and be creative as it relates to the theme. This could be related to color (such as the color red), meadows, farms, trees, working people or Makers, crafts people, boats, fish, shoes, distilleries, fire fighters, fire houses, fire equipment, architecture, bridges, families, notable natural phenomenon, maps, witches, settees, or portraits just to give a few ideas.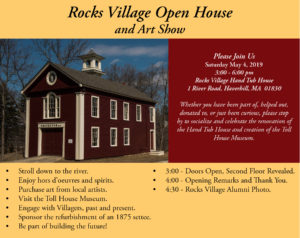 In conjunction with:

The Art Show will take place in the Hand Tub House which is an old fire station that was built circa 1829. There will be two floors of art, hors d'oeuvres, spirits, and history. Along with this event being open to the public, over 200 people, who have been part of renovating the building, have been invited to join us on the 4th.
Additionally, the art show will be open from 12 – 3 pm on the following days in May. 5th, 11th, 12th, 19th, 20th, 26th, and 27th.
IMPORTANT DATES:
April 13th Midnight EST: Deadline for Submissions
April 16th: Notification of acceptance to selected artists
April 26th (2-8pm): Work drop off at 1 River Road in Haverhill, MA
May 4th (3-6pm): Reception and Open House
For the full Call to Artist, please see document below.
Call for Art in Rocks Village 2019