Ferry Service
From 1647 until the Bridge was built in 1794, people and cattle, got across the river via Ferry.
---
---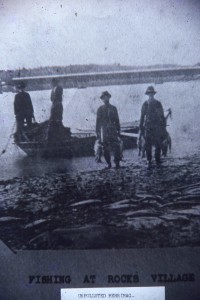 Fishing, Exports/Imports
"Atlantic salmon was not the only fish inhabiting the Merrimack River during the pre-colonial period. The American Shad, the lamprey eel, and the alewife were also important". (89)  Sturgeon were also fished in abundance
Pickled fish was a lively industry and there was a pickling house at the end of Wharf Lane.  The Fish House located at the end of Wharf Lane, used for cleaning and pickling and packing, was built in Haverhill Sept 23, 1719.(7)
Packed in Firkins & Kegs and shipped to Europe and the West Indies. (The pickled fish that were less tasty went to sugar plantations in the West Indies for Slave Consumption).
Other exports include Corn and grains, beef, lumber, pearl ashes, linseed oil and tow cloth. (63)
Imports included Sugar and Molasses from the West Indies.
Charles Ordway had fishing privileges on Mohawk grounds which were on Newbury side.
Native American name for Merrimack river was Monomack meaning Sturgeon.
On September 24, 1718, Newbury granted Moses Chase, Abraham Annis, Joseph Pike, William Morse, Benjamin Smith, Abiel Kelly, Jonathan Kelly, John Swett, John Carr and Joshua Bayley 'eighty rods of flats above Holt's Rocks to fish on, on condition they pay as an acknowledgement to ye town, two salmon per year, one to Mr. Toppan, ye other to Mr. Tufts, if they catch them' (24, page 189)
In Zebulon Ingersoll Account Book, there are many references to selling Salmon, Pollock etc. (46)
Major John Ladd "owned one of the best fishing grounds on the river" (29)
1851, April 14: Daniel H. Hall to Thomas W. Bailey for $62.50 (450/188) 1/4 part of right of Mohawk Fishing Ground.
With the industrial revolution came the dwindling of the fish in the river.  "In 1805, a good catch amounted to 20 salmon per day, per fisherman, and by 1830, a catch of 10 salmon per day was exceptional. By the 1850's, no salmon catches existed". (89) This was due to the dams being erected further up river keeping the salmon from their spawning areas. The Shad's decline was slower but still showed decline from 1805 to 1865.  A restoration effort was put into place in 1866 and included cooperation between Massachusetts, New Hampshire and Maine (89)
Shipbuilding
1790 – 1800: one ship yard at "the rocks" (history of Haverhill pg 450)
Jospeh Burrill living on River Road c1740 kept an account book(56).  Many entries list activities related to ship building.  It also lists that Samuel Estabrook (son of Hannah Estabrook an Elijah Estabrook) as his apprentice.  Samuel was Burrill's stepson.
On page 22 In the Historical Sketch of Shipbuilding on the Merrimack River by John James Currier, it states that in 1790, there was one ship yards in full operation at "Rocks Village".
Shoe Making
Connecting RV and Downtown Haverhill
Comb Making
Comb making was mainly in Newburyport and West Newbury but individuals lived in Rocks Village.
1830 Census: Listing of Comb Manufacturers in Rocks' Village
John Ladd
Edward S. Moody
James Davis
Samuel Noyes
Ephraim B. Noyes
John I. Rollins
1850: John Rollins  who lived on Wharf Lane is also listed as a comb maker.
James Davis is listed as a comb maker
In Mirick's History of Haverhill, there is mention of $30,000 of combs being manufactured in 1831 in the East Parish, in which Rock's Village is located. "It gives employment to about a hundred person of both sexes; and no doubt, will be a source of profit to the enterprising gentlemen engaged in the business." (38, pg 211)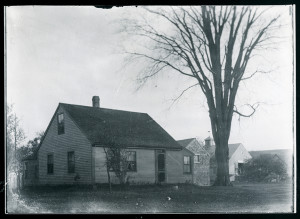 Distillery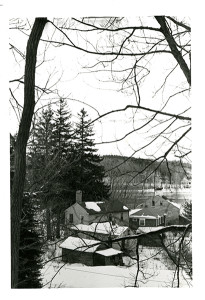 A distillery of cider was located near the Daniel Chase house.
Hat Making
Daniel Swan 1830 census is listed a Hatter. Daniel Swan owned land on Wharf Lane and East Main street in the late 1700's/early 1800's. He was the son of Francis and Lydia (Frye) Swan of Methuen, and brother of Francis Swan who married Abigail Elliott and moved to New Sharon, Maine.
Expesses: Agnes and  W. Oakes from W. Newbury to Rocks Village:  Listed in 1902 Haverhill Directory