"Built in 1828, the toll house is a 10-foot by 12-foot one-room, clapboard building, with a soapstone stove and windows on all four walls. It was designed to allow a toll keeper to stay out of the weather and provide enough room to continue working as a shoemaker in-between taking tolls and raising the drawbridge. Tolls were collected until 1868 when Essex County declared all highways to be free for public use, effectively assumed authority over the bridge, but not maintenance. The toll house remained in use for the drawbridge until 1912, when after years of minimal funding for repairs from Haverhill, West Newbury and Amesbury, the bridge was in such poor shape that it needed to be replaced." [74]
"A good Yankee never wastes anything, and James Colby was no exception. A former toll keeper, he purchased the empty building and had it hauled up the road to his yard on River Road to be a fulltime shoe shop until His death in 1920. His son Harry inherited the property and also used it briefly as a shoe shop until the factories downtown made such small operations obsolete. He became a foreman at a shoe factory and the toll house became a tool shed. By the time Ford and Taylor saw the structure, it was a battered relic. But the history of transportation included these little toll houses, a Ford collection primary focus, so Thomas was authorized to make arrangements to acquire it." [74]
The original toll house and shoe shop from 1828 was purchased in 1928 for $200 by Henry Ford and brought to Greenfield Village in Dearborn Michigan.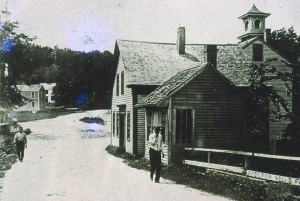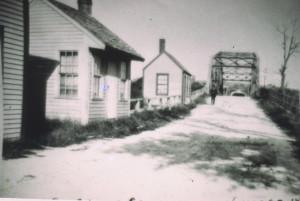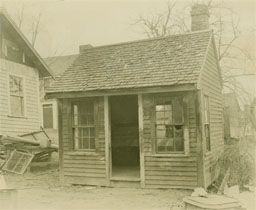 In 1804, if you didn't pay the toll, "Mr Swan followed him & brought back his horse and chaise". (21)
1831: Joseph Morse tollkeeper. (history of Haverhill pg 502)  story of "I'm dying". Also in a Brief Account of the Singular as told by Thomas Morse in 1832. "Printed at the Iris Office". The Iris was a newspaper in Haverhill with a printing office later moved to Lowell.
According to the Merrimak Bridge Receipt Book (at Phillips Library)
Sept 26 – Oct 3rd 1831:  John Johnson
Oct 31 – Jan 2 1832: Aaron Green (1800 – 1843) buried in Pentucket Cemetery. Parents Moses Green and Sarah (Poor) Green.
Jan 2 1832 – July 8 1833: Elijiah L. or S. Tozier (Perhaps lived in 1/2 of 20 River Road) next to Samuel Estabrook in 1830. Or could this be the toll keepers house when it was next to the HTH?
Aug 5 1833 – Aug 19 1833: John Johnson
Aug 19 1833 – Oct 13th 1834: John R. Rollins
Oct 13 1834 – Jan 19 1935: Luther Chase (In 1830 living between Benjamin Pingree and Moses Wingate. in 1840: Ebenezer Fullington, Ephraim Orne, Luther Chase, John J. Chase,  Joseph Esterbrooks (on East main street it looks like)).Luther, s. Tristram and Susanna, Nov. 10, 1807 Newbury. Tristram, s. David and Sarah (Emery), Jan. 23, 1737. Tristram, s. Tristram and Priscilla, Aug. 21, 1774.
Jan 19 1835 – Dec 28 1835: Simeon Chase
1832: Mr. William Willcomb was draw keeper or toll keeper along with Joseph Morse but was located on the West Newbury Side.
1830 Census: William Willcomb, between 30 and 40, 2 females between 5 and 10, 2 females between 10 and 15, one female between 30 and 40.
He marries Rhoda Tuxbury in 1817. Two daughters Leonora F. (1820 – 1901) and Ann Maria (xx – 1911 Amesbury). Leonora also known and Nora L.
Leonora first marries Freeman Nutting in 1841 and then Addison P. Chaples in 1847. They own a small piece of land that ends up being part of 2 River Road in Merrimac. (partially in Merrimac and partially in Haverhill). The land is sold by Addison P. Chaples, his wife Leonora and sister in law Ann Maria (who marries a Waining in Lawrence??) They also had another child that dies as infant in 1833. They sell this land to John W. Ladd in 1855 (516/129)
16 Jul 1835: Timothy Kinneson, Ephraim Orne, and Timothy Flanders accuses Rhoda Willcomb of making noise. She is sentenced by Nathaniel Ladd to 3 months hard labor in Ipswich.
1850 census
820-1038  Thomas D. KELLY, 40, toll keeper (did they live in the toll keepers house?)
          Sarah ", 20
          William ", 9
          Sarah ", 6/12
1856 – John W.Ladd was tollkeeper (and a shoemaker).
1850 census- John W.  Ladd (b. Jan. 7, 1822) (son of John Ladd & Sophia Jaques) at age 28 is listed as a shoemaker.John W., marries Sarah C. Evans of Amesbury, int. June 29, 1845.
Sarah (Evans)- 27,
Frances – 5,
Mary – 3
John – 2
1857 – Wallace T. George, father of Edward B. George, Clerk of Courts of Essex county, was tollkeeper. He is listed as owning 34 East main Street in 1850.
1858 – Theodore Ordway was tollkeeper and shoemaker. He took the last receipts collected. Later his son Charles Ordway took over shoemaking and tending the draw.
1880 Census Theodore is listed as drawtender.
1875 Haverhill Annual Report Shows:
Theodore Ordway: 49.78 for supplies
Theodore Ordway: 318.52 for services lighting and tending draw
Highway Dept
Theodore Ordway: 79.11 for supplies and extra labor
Theodore Ordway: 318.42 for services lighting and tending draw
Theodore Ordway: 51.45 for supplies
Theodore Ordway: 318.52 for services lighting and tending draw
383.36 expenditures
Theodore Ordway; 159.26 for lighting bridge and tending draw
C. E. Ordway: 172.84 for lighting bridge and tending draw
Theodore Ordway: 18.15 for supplies and extra labor
C. E. Ordway: 53.24 for supplies and extra labor
1890 – The bridge was replanked. A new drawtender's house (small building close to bridge – now relocated in the neighborhood) was built close to the bridge (cost: $100). It was used for shoemaking and draw tending.
James Colby toll Keeper
1912 – Haverhill Evening Gazette Dec. 13, 1912: "The present drawtender is John Germaine …occupies the old tollhouse, where he repairs shoes, and it is still 'a cobbler's stall'"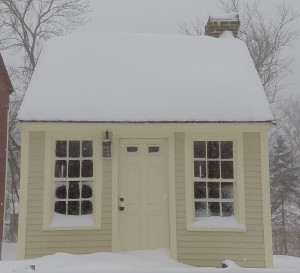 In 2013, Students from Whittier Technical School rebuilt the Toll House with Plans from the museum in Dearborn.
We'd like to thank the following local businesses for their donation of material
Moynihan Lumber
Johnson Lumber
Lighting by the Sea
Haverhill Bank
Rice & Broullard Electric, Inc.
Lambert Roofing


Greenfield Village – Open Air Museum